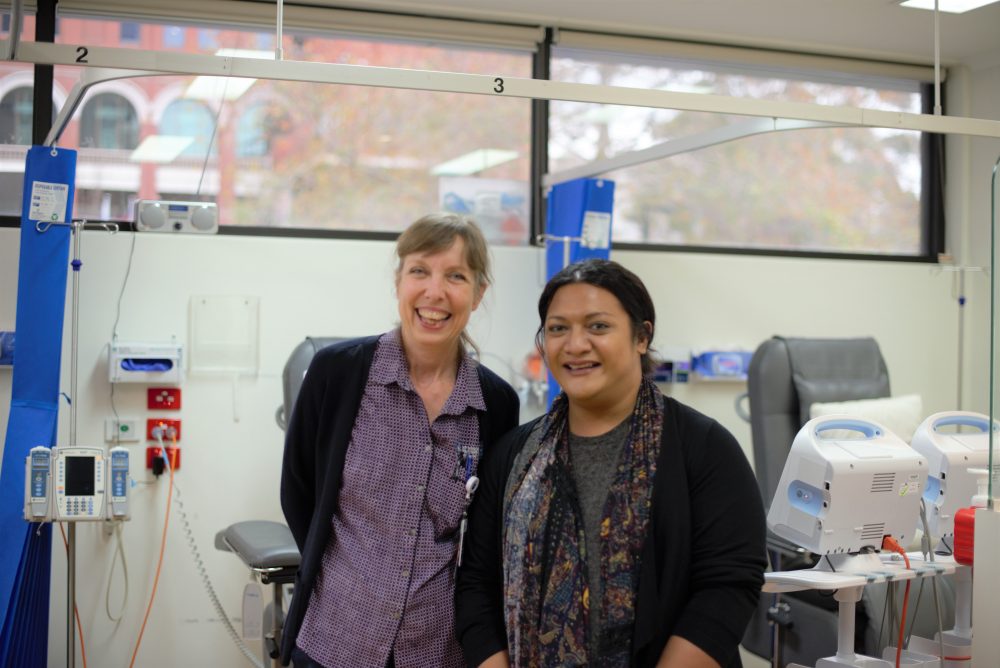 Falelua Maua is a scrub nurse from Tupua Tamasese Meaole Hospital, Samoa.  She was the 2019 recipient of Interplast's Doyle Family Scholarship. 
The scholarship involved a program in Melbourne with days at St Vincent's Private Hospital in Fitzroy and East Melbourne, and the Alfred Hospital.  Falelua was also able to attend the Victorian Perioperative Nursing Group's two-day conference while she was in Melbourne.
Falelua's host at St Vincent's Private was nurse educator Karolin King who has volunteered on three Interplast programs to Samoa in the past three years.
"When we were in Samoa the nurses expressed a lot of interest in learning through secondment," Karolin said.
Each year, the Doyle Family Scholarship provides the opportunity for an anaesthetist, nurse or allied health professional from the Asia Pacific region to increase their knowledge and further develop their skills through an activity such as attending a conference or workshop, and/or undertaking an observational placement. The annual scholarship was established by the Interplast Board of Directors in 2017 in recognition of the long-term commitment of the Doyle family to Interplast.
In addition to time with quality and risk staff and infection prevention, Falelua had the opportunity to observe in a number of St Vincent's 19 operating theatres (there are eight at the Fitzroy campus and 11 in East Melbourne).  She saw a variety of types of procedures.
"In Samoa we have four fairly busy theatres, but the biggest difference was the resources," Falelua said. 
"At home we often have to sterilise and re-sterilise a particular piece of equipment during an operation, as we do not have multiples of many pieces."
At the Alfred, burns nurse practitioner Hana Menezes (also an Interplast volunteer) set up the program for Falelua which included a day observing in the hospital's burns operating theatre.
The Victorian Perioperative Nursing Group's conference is held every two years and included presentations about many of the latest procedures.
Falelua said she had many things on her mind to take back to the hospital in Samoa.
"I particularly want to convince my colleagues of the importance of incident reporting," she said.
As Karolin said, incident reporting is not about blame: "it's about supporting staff and learning".
Falelua wrote to Interplast to thank all involved in her scholarship experience.
"I would like to thank each and every one of you that made the trip possible. I am very humbled and thankful with everything starting from Day 1 until the end.
"I have now arrived home safe and sound and already have exchanged a lot with [nurse manager] Natasha and colleagues about the marvellous most educational and inspiring trip ever. May the good Lord bless each and every one and looking forward to more opportunities alike for the involved parties and of course an utmost outcome from this initiative in the coming future. Again, thank you so much, faafetai tele lava."