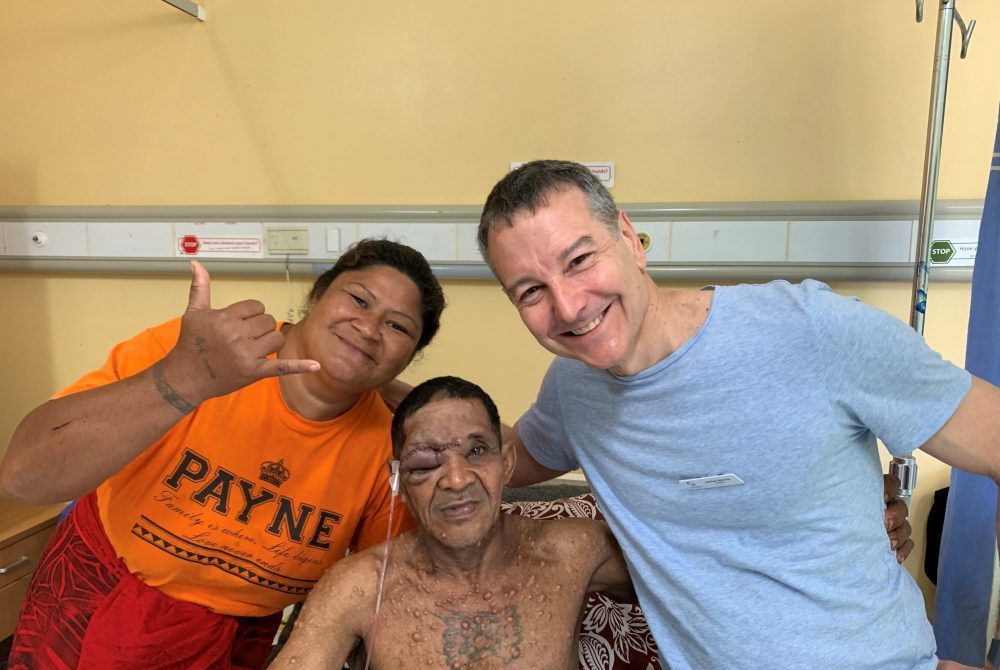 Interplast has supported the people of Samoa since 1983 and we recently returned to undertake a further surgical and training visit in both Savaii and Apia. Generously supported by funding from the Rotary Club of Mornington, the experienced Interplast team were able to conduct 134 patient consultations and 60 surgeries. For Ropati, his surgery was life-changing and gave the gift of sight.
Ropati has Neurofibromatosis Type 1. This congenital condition results in the growth of multiple tumours along the nerves of his body. For the past few years, a neurofibroma has been growing above his right eye – completing blocking the vision on that side.
Unfortunately, this means Ropati has been living quite an isolated and lonely life. He works on a remote farm, and basically kept away from other people. Thankfully, a generous relative had 'adopted' Ropati and together they visited the Interplast team to see if anything could be done.
A local surgeon treated Ropati over a year ago, but with limited success so he needed prompt surgical intervention again.
Interplast volunteer surgeon, Associate Professor Damian Marucci assessed Ropati and felt confident that he could be assisted during the Interplast visit. Working with local surgeon Dr Posani the surgical team undertook the challenging tasks of reducing the size of the neurofibroma on the upper right eyelid.
Together, the surgical team removed as much of the tumour as they could, and the surgery was successful. Thankfully, Ropati's vision from his right eye was still functional, and so once the swelling decreases Ropati is expected to see out of the eye again for the first time in many years.
The Interplast surgical program in Samoa was supported by the Rotary Club of Mornington and the Pacific Islands Program through the Royal Australasian College of Surgeons.