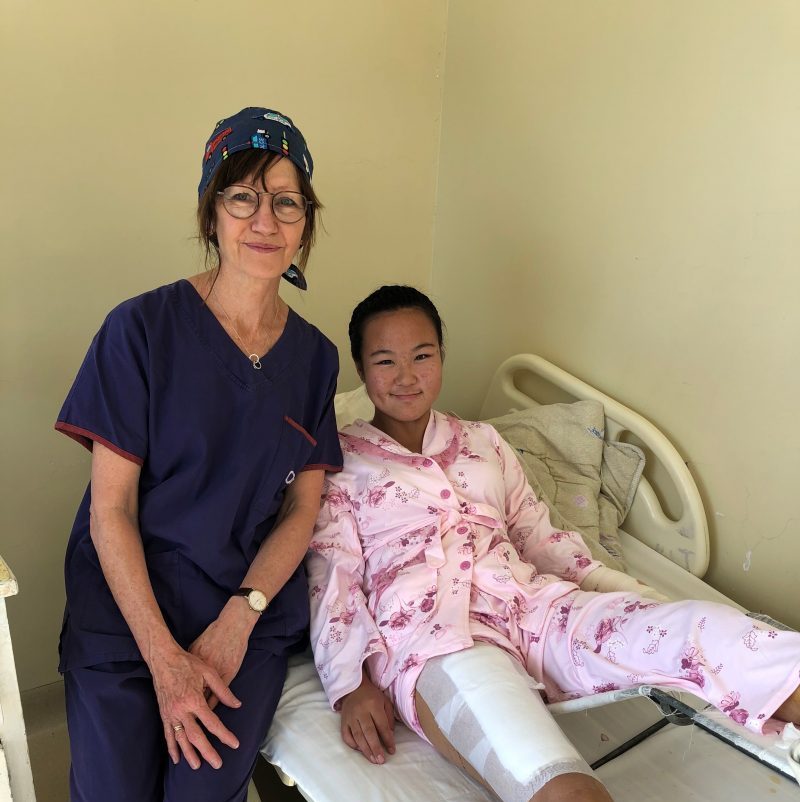 15-year-old Enkhzaya saw on Facebook that an Interplast team was to visit Dalanzadgad (known as DZ, a city in the south of Mongolia) this year. She contacted local partner Dr Batgombo and included photos of her burn scars. Dr Batgombo was able to contact the Interplast team and arrange for Enkhzaya to be seen when they arrived in DZ. Enkhzaya is pictured with Interplast volunteer nurse Mary Gow.
Enkhzaya lives in DZ where she attends school while her family looks after their herds in rural areas. When she was just two, she fell onto a pot of boiling water which was over an open fire. Enkhzaya's family were migrating their cattle from one area to another, so they were living in a camping-style tent.
Enkhzaya was very keen to see the Interplast team as her burn scars to her left arm and foot were restricting her activities. She enjoys volley ball which she plays in a local competition however the scar contracture to her left foot was causing her to be unstable and she had fallen and caused herself further injury this year. Enkhzaya also enjoys dancing and dressing up, but she is unable to wear fashionable shoes and is restricted in some of her movements. She is the eldest of three girls and she loves spending time with her sisters.
Enkhzaya had release surgery of the burn scar to her foot with a full thickness skin graft and a Z-plasty repair to her arm. A full thickness skin graft is where a wound is closed with a graft which consists of the epidermis (outermost layer of the skin) and the entire thickness of the dermis (main layer of skin). A Z-plasty is a surgical technique to release pressure on a scar using a Z-shaped cut.
Enkhzaya's family were very happy she was able to have the surgery required to improve her mobility and activities as she aspires to studying law at university and wants to continue to play volleyball competitively.
Enkhzaya would greet the team every morning at ward rounds with a huge smile.
The night after her surgery Enkhzaya messaged Dr Batgombo with "Thank you for everything and please send my deepest thoughtful words to the Australian Doctors. I am so happy, even if I say many thanks to you it is not enough. I owe a lot for your Doctors. Thank you very much."
The Interplast program in DZ was supported by the Australian Government's Department of Foreign Affairs and Trade through the Australian NGO Cooperation Program (ANCP) and other donors.