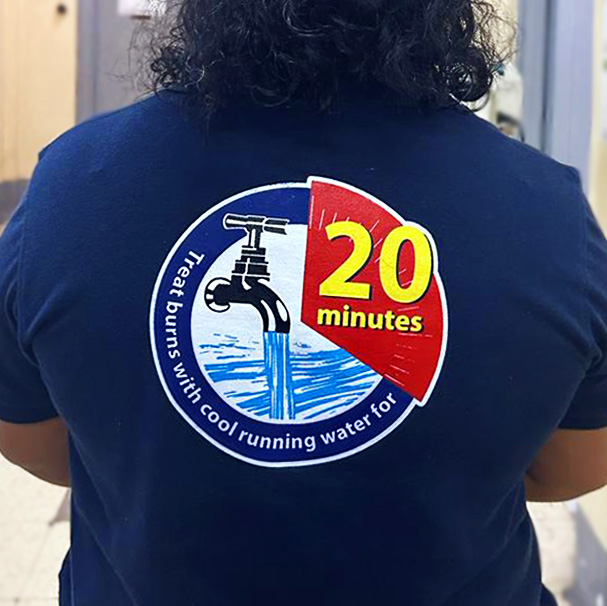 The start of winter brings the start of National Burns Awareness Month in Australia. Every year, June marks the beginning of a dramatic rise in burn injuries.
With half the world's population relying on open flames to cook, stay warm, and light their homes, accidents are common. Hundreds of thousands of deaths are caused by burns annually, with the vast majority occurring in low to middle income countries.
Additionally, for every person who dies as a result of their burns, many more survive with permanent disfigurement. Without immediate access to appropriate management of severe burns, burn injuries are left to heal themselves. This results in burn scar contractures, which often severely limit a person's mobility and can result in life-long disability.
Burns injuries represent a significant number of the cases which Interplast teams, and our local partners, treat as a part of our programs across the Asia Pacific. Responding to this priority, we also provide regular training on managing and treating burn injuries to our partners.
Emergency Management of Severe Burns (EMSB) training in our partner countries is delivered in conjunction with the Australian and New Zealand Burns Association (ANZBA), a long-term partner of ours who play a leading role in burns prevention and treatment in Australia and New Zealand. The EMSB course focuses on the first 24 hours of care after a severe burn – a crucial period for action to ensure the best outcomes possible for the patient.
"The EMSB course not only provides a comprehensive course on the management of the acute severe burn injury, but allows us to mentor and support Burns Units focusing on long term outcomes and, most importantly, prevention."
Australian burns nurse and educator, Rebecca Schrale, has been leading the delivery of EMSB training in Fiji with Interplast for a number of years. She has seen the impact of delivering such programs in our partner countries.
"Clear messaging around the importance of effective burns first aid… needs to continue to be a focus in all countries and will significantly impact the long-term outcomes and scarring of the burn injured patient."
We are also working with partners in a number of countries, including Nepal and Fiji, to strengthen local burns prevention work. Interplast recognises the importance of educating local communities to reduce the incidence of burns injuries. Rebecca is part of this year's burns awareness month initiative in Fiji.
"The Fiji Burns unit has been meeting and collaborating as part of the ANZBA Prevention Committee for a number of years and are a part of the National Kidsafe Burns awareness month initiative in June – sharing resources across Fiji."
ANZBA & Kidsafe have also recently translated the "Keep Safe With Burns and First Aid" messaging into 10 different languages, including animations and brochures. All are available for download and are encouraged to be shared!