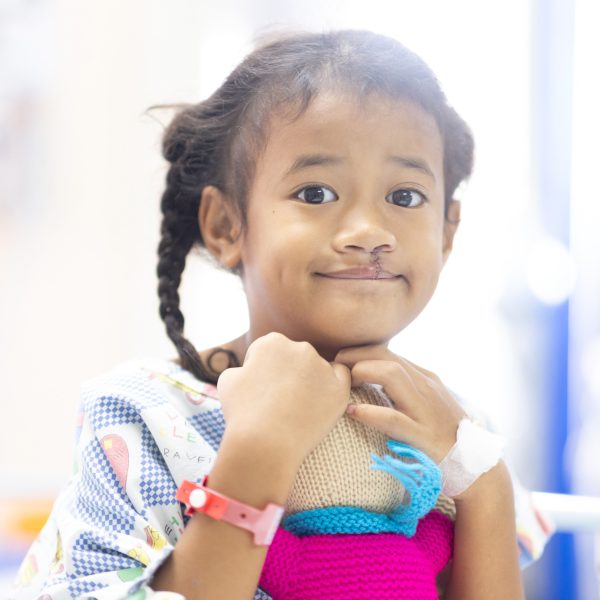 In May, we were delighted to be back in Tonga for our 42nd visit with the opportunity to celebrate 40 years of our work in Tonga with our in-country partners.
During the pause on our regular programs due to COVID-19 pandemic restrictions, the waitlist of patients who needed to be treated grew longer and longer. Our incredible volunteer surgeons, anaesthetists and nurses worked tirelessly alongside local counterparts to consult and treat as many patients as possible during our visit. Together, they assessed over 60 patients and provided more than 30 life-changing surgical procedures.
Many of the patients seen by the team had previous treatment. It is important they returned for follow up assessment and the next stages of their surgery, to ensure their ongoing wellbeing. During this trip, adults and children were able to access cleft lip and palate repairs, repairs of serious hand injuries, and some very complex burns reconstructions.
As part of ongoing initiatives to strengthen local capacity, the Interplast team also supported training and mentoring to the local surgical team. Tonga's only two consultant surgeons, Lord Tangi and Dr Alamea, led the local anaesthetic and nursing staff in training to deliver plastic and reconstructive services. We can't wait to share stories with you over the coming weeks of some of the amazing work that was completed.
The Interplast team were also delighted to be hosted by H.E Ms Rachael Moore, Australian High Commissioner to Tonga, and her team in Nuku'alofa. Interplast volunteers, the team from the Australian High Commission, partners from Vaiola Hospital, and the Tongan Ministry of Health all came together to celebrate 40 years of collaboration and transformation. It was a wonderful opportunity to reflect on all that we've achieved together, and the enduring relationship between Interplast and our Tongan counterparts.
We want to give our heartfelt thanks to those who have made this program possible. Ongoing support and generous funding from the Rotary Clubs of the Mornington Peninsula Cluster in District 9820 and Rotary Clubs of District 9920 in New Zealand have enabled patients waiting years to finally receive treatment.
We also acknowledge the invaluable support of the Australian Government through the Australian NGO Cooperation Program (ANCP) and Department of Foreign Affairs and Trade (DFAT) which has allowed us to reduce the significant case-load of patients in Tonga and change lives.