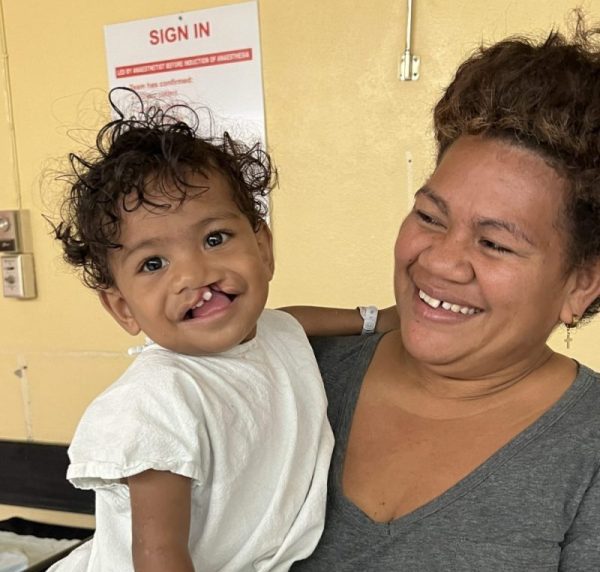 When the fourth of Loata's children was born in Labasa Hospital in 2021, the joy of greeting her new child was impacted by the discovery of a congenital condition called a cleft lip and palate. Baby Moceiwai's start to his life encumbered by a condition that in developed nations, is easily diagnosed and remedied.
Loata's shock at her baby's condition was made all the more difficult by the lack of access to specialist knowledge and immediate support and treatment. Moceiwai's feeding tube maintenance was problematic and travelling back and forth to the hospital impacted all aspects of Loata's family life.
Curiosity and doubt from family members about Moceiwai's condition, the logistics of hospital visits and the financial impact were starting to take their toll on the family.
It was during this most stressful time that hope came for Loata and Moceiwai in the form of a call from the hospital clinic.
Loata was informed the team from Interplast were coming to Labasa Hospital and that the treatment she had been praying so hard for was a possibility.
"Dr David came, the same day, he just came and listened to his heart, and he just told me everything is clear. And I thank God, and he told me, he will be the one, he will be the first case tomorrow morning"
The experience of navigating a health issue in a developing country is stressful across the spectrum of emotions, family and finances. There are also cultural and spiritual elements around such a condition to contend with. In a system with limited capacity and reduced access to specialist equipment, Loata's experience is echoed by many but is always unique to that patient and their family.
After a year of managing Moceiwai's condition, Moceiwai was ready for the first part of his life-changing surgery.
I give him to Dr Simone, I was crying, and she just told me 'Don't worry, we're going to take of your baby, I promise,' she give me encouragement"
In developed countries, most babies will undergo specialist surgery around 3 months old. This is done with a surgery called cheiloplasty (KY-lo-plass-tee) and requires specialist intervention and care. Moceiwai's surgery took approx. 4 hours and involved Interplast's surgeon Dr Anand Ramakrishnan and partnered with Labasa Hospital surgical team led by Dr Scott Buadromo. 
I call my husband and my husband came, he just look at him and we were crying. I just standing there and thank God, without those team, the Interplast team, nothing can be done like this. (sic)
The successful surgery has a major impact on Moceiwai's immediate future and that of his family. It's an unfortunate reality in many countries in the Asia Pacific region that a lack of resources combined with limited training means people with treatable conditions are often not treated fast enough or well enough – if they are treated at all.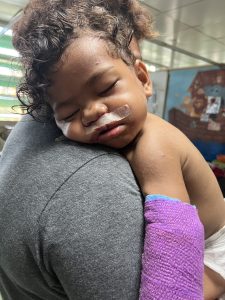 The next step for Moceiwai and his family is his cleft palate operation. A cleft palate, if unrepaired, will impact on speech, ability to eat, and general health and the family is often financially impacted by purchasing antibiotics and the burden of travelling to the health clinics. Growth, development, ear infections and hearing and speech development are issues Moceiwai will face until this surgery is undertaken. 
Donating to Interplast means you have a direct impact on the future of children like Moceiwai and the financial and social freedoms of his family.
Will you help the Interplast team return to the Pacific and continue their life-changing work?   Join us and donate to our Christmas Appeal – https://interplastappeal.org.au/