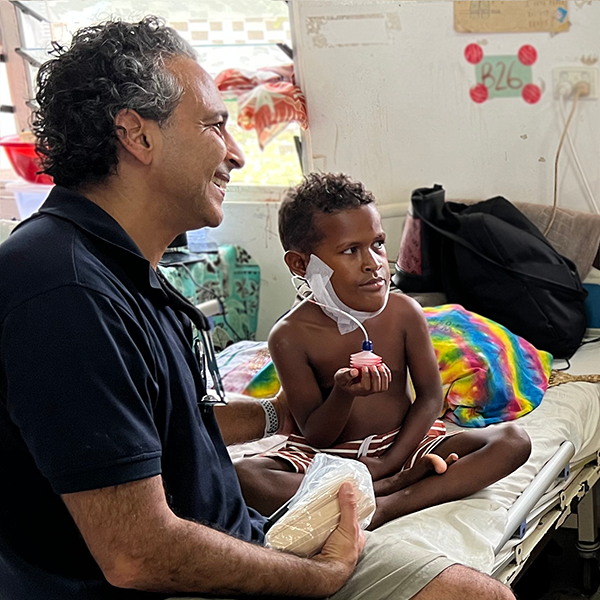 Interplast's volunteer surgical team first met two-year-old Frezole in 2017 in Solomon Islands. He was diagnosed with a severe lymphatic mass malformation in his lower jaw, which he has lived with since birth.
Unfortunately, children with facial differences often face prejudice in their communities, and bullying often prevents them from attending school. Meanwhile, their families may struggle with the financial burden of diagnosis and treatment.
Due to the absence of specialised plastic surgeons in Solomon Islands, Frezole didn't receive any medical intervention until 2019, when the Interplast team was finally able to treat him. Visiting Interplast teams play a critical role in providing transformative plastic and reconstructive surgery to children like Frezole, who would otherwise lack access to essential care.
When a volunteer team visited Solomon Islands again earlier this year, Interplast volunteer Dr Zac Moaveni and local surgical trainee Dr Jarrad Lilygeto successfully removed the mass from Frezole's face. Frezole's mother Joylyn was overwhelmed by the change for her son.
"Frezole will be willing to go to school because of his good health. Frezole aims to be a doctor because of his experience with this sickness. As a mother, I really appreciate this operation. His health makes me really proud."
As always, our commitment is not just providing surgical care for individual patients, but building sustainable medical services for local communities.
With very few surgeons in Solomon Islands and without a plastic & reconstructive surgeon in-country, Interplast teams are usually faced with a large workload comprising congenital hand deformities, cleft lip and palate, hand injuries and burn contractures.
At the National Referral Hospital, Interplast teams have been supporting and training Dr Scott Siota, a General Surgeon, for the past thirteen years. By building Dr Siota's capacity and skillset in basic reconstructive surgical techniques, he can attend to people needing less complex plastic surgical care on a regular basis.
From observing and assisting in Interplast surgical procedures, Dr Siota has turned the tables and is now performing many operations independently as Interplast surgeons watch on. Interplast surgeons Dr Zac Moaveni and Dr Kirk Williams have been elated to work with Dr Siota and see his skills develop in plastic surgery. Dr Moaveni reflected on the significance, saying "it's a privilege to be part of the story of the first generation of reconstructive surgery in Solomon Islands. Many more lives will be positively affected by this gentle surgeon."
In addition to working alongside Dr Siota on this program, the Interplast team provided invaluable clinical training to 25 local surgeons, nurses and anaesthetists.
Rotary Clubs of District 9930 in New Zealand were instrumental in the funding of this visit to Solomon Islands. A sincere thank you to all Rotarians and Clubs who contributed to this program. Thank you also to the Australian Government through the Australian NGO Cooperation Program (ANCP) for making this program possible.