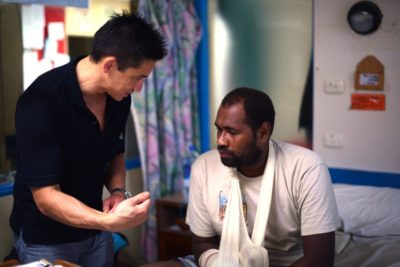 Charlie Jeong, medical student from the University of Newcastle, was excited to join an Interplast volunteer surgical team led by surgeon, Mr David Ying, to Labasa in Fiji in March this year.
Charlie was awarded the experience of a lifetime by Avant Mutual, a medical indemnity insurance provider and long-term Interplast supporter that has been generously sponsoring the student placement program annually since 2013.
Charlie worked in an observational role alongside Interplast volunteer surgeons, anaesthetists, nurses and allied health professionals, experiencing first-hand how the Interplast team partners with the local Fijian medical team, to deliver life-changing plastic surgery and reconstructive surgery.
"There are some things you just can't learn from a textbook, so seeing an Australian-trained doctor working in a developing country in real life, will help me think about my future medical career," Charlie said in a story reported by Avant.
David is a plastic and reconstructive surgeon and Interplast team leader who has been volunteering in Labasa since 2011.
"Charlie will have his eyes opened as to the differences in health standards in developing countries," David said.
"Like us, Charlie will be very impressed by how well the local people overcome challenges that most people in Australia don't face."
David and his volunteer surgical team have welcomed four Avant students into Interplast's Labasa programs over the years.
"The students become part of our team and they get to experience what we do," David said.
"They share in the immense satisfaction we enjoy from this work, and from knowing that as a team, we are making a difference.
"Students walk away inspired and with a charitable attitude that will be used in whatever career they choose."
Applications for the Avant and Interplast student placement program will be open in August 2019. For more information, click here.