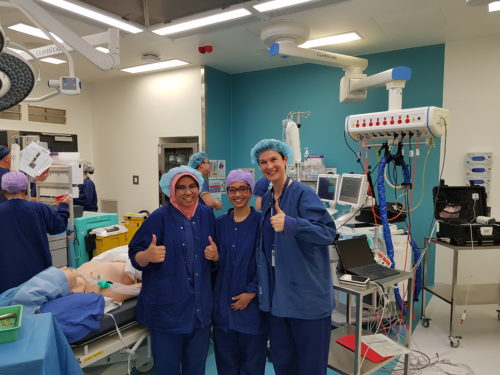 Dr Berliana Prastiti and Dr Putri Rizkiya are the most recent anaesthetic registrars to participate in Interplast's annual Indonesian anaesthetists' observational placement in Australia.
This program was established by anaesthetist and former Interplast volunteer, Dr John Oswald, in 2004. The program, in partnership with the Dr Soetomo Hospital in Surabaya, is designed to expose Indonesian registrars to anaesthesia in Australia.
"This is our first time studying overseas and we were very excited to see how anaesthesia is done in Australia," Putri said.
Berliana and Putri are senior registrars at the Dr Soetomo Hospital in Surabaya. During the month-long placement, both doctors first attended the Australian Society of Anaesthetists (ASA) National Scientific Congress in Adelaide, followed by a placement that included time spent with Ballarat Health Services, Geelong Hospital, Peter MacCallum Cancer Centre (Peter Mac) and Royal Children's Hospital in Melbourne.
Berliana enjoyed learning about the collaborative way anaesthetists and surgeons work together.
"In Australia, anaesthetists have an equal say in in determining if a patient is well enough for surgery," Berliana said.
"We hope to advocate for greater teamwork in Indonesia for better health outcomes."
Putri was delighted to have experienced simulation and critical incident training for the first time, at Peter Mac.
"We were exposed to many real-life situations where we could methodically step through each intervention in a safe environment and evaluate our techniques," Putri said.
Berliana is looking forward to bringing back her learnings about different anaesthesia drugs and techniques to Indonesia.
"We simulated a Bronchoscope procedure where the patient receives local anaesthetic through the throat, so they can stay awake and be more responsive," Berliana said.
"In Indonesia, this procedure is always done under general anaesthetic which is more invasive for the patient."
Berliana, Putri and Interplast are very grateful for funding from Rotary District 9780 in regional Victoria, and for the financial and logistical support of the Australian and New Zealand College of Anaesthetists (ANZCA), and the ASA, and to Ballarat Health Services, Peter Mac and the Royal Children's Hospital for facilitating and hosting this program. We would also like to thank Professor Edi Rahardjo, Head of Anaesthesiology at Dr Soetomo Hospital and Interplast volunteer anaesthetist Dr Shakti Palanivel at Ballarat Health Services for their support.