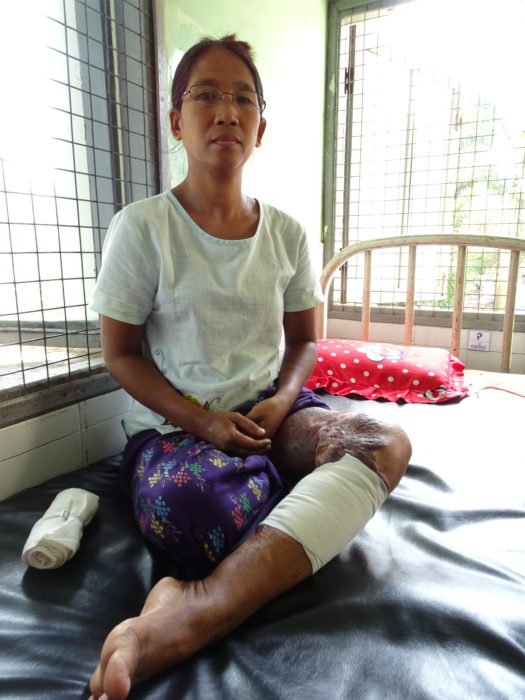 Aye Aye was not able to sit, stand or walk without pain.
She was cooking a large pot of sticky noodles to raise money for a local temple on the outskirts of Yangon, Myanmar. Aye Aye slipped and fell, bringing the boiling pot down with her. The hot noodles stuck to her skin and continued to burn her.
Aye Aye's burns were so severe to her leg and posterior that after four months of bed rest, she still endured great difficulty lying down and performing daily personal care tasks.
Determined to move after her bedrest and with no access to physiotherapy, Aye Aye worked hard to move again until at six months she could walk unaided with a stick. But with no compression garments available to her, Aye Aye's leg continued to discharge and bleed when she walked.
At this time, her mother became very sick, and Aye Aye neglected her own wounds to care for her mother. As a result, a huge ulcer formed on the back of her knee.
Last year, 43-year-old Aye Aye met the Interplast volunteer surgical team at Yangon General Hospital. Volunteer plastic and reconstructive surgeon, Associate Professor Michael Leung, said her ulcer was chronic and would not heal without surgical intervention.
Local surgeons supported by the Interplast surgical team worked together to excise the ulcer and repair the wound with a skin graft.
"Unfortunately, because of the scarring, she won't have full range of movement, although her walking will improve," Michael said.
"Once healed, she will be free from pain."
Aye Aye was given three months paid leave from her work, but this had long expired. Her husband had to leave his job as a carpenter to care for Aye Aye in hospital and her sister had been helping to look after Aye Aye's six-year-old son.
"When I recover, I will find another job and return to work," Aye Aye said.
But she still faces a significant amount of recovery and rehabilitation until she regains her independence. Aye Aye and her husband have been relying on the goodwill of family and friends to support them with money for food and medical supplies.
Finding bus fares for the four-hour round trip will be difficult for the repeated clinic follow up visits Aye Aye will need after she is discharged from hospital.
But for now, Aye Aye and her husband are so thankful that they have conquered their first – and biggest – obstacle with the help of Interplast and local surgeons. With the gift of surgery, Aye Aye and her family can now begin the healing process.
She was also grateful for the hand-knitted teddy from Maketu Rotary Club that she can give to her son.
"Everyone has been so generous, and we are so thankful that Interplast is helping us," Aye Aye said.
This program was generously supported by Rotary Club District 9930 New Zealand.