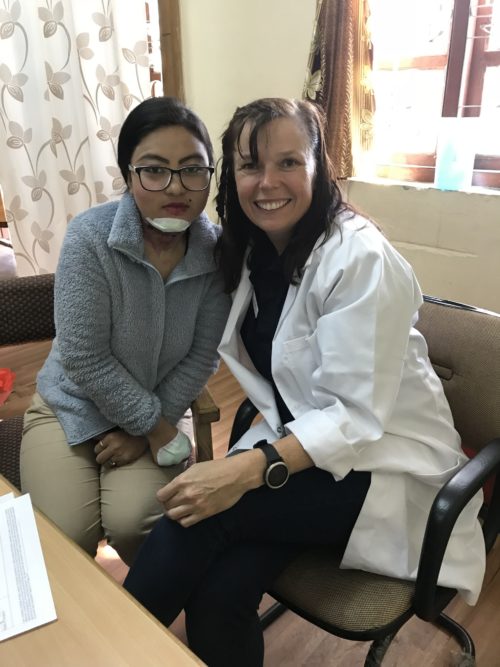 Tshering was badly burned on her neck, chest and hand when methylated spirits ignited. During a visit to Jigme Dorji Wangchuck National Referral Hospital in Thimpu, in Bhutan in October last year, Interplast volunteer surgeons released the burn contracture on her neck, to allow more movement of her head and neck.
Prior to the surgery, Tshering couldn't straighten her neck and her head was permanently in a slightly bowed position.
After surgery, Interplast volunteer occupational therapist, Tanja Klotz, fitted a soft collar to protect Tshering's new skin graft and to stabilise her head in a neutral position, something Tshering had been unable to do for almost a year since her accident.
Elastofix (a mix of Elastomer putty and Hypafix) was also used to manage Tshering's scars and importantly, Tanja also taught local physiotherapist technician, Tshering Dorji, how to make his own version of the product.
Elastofix is a special type of contact media used in difficult to manage areas such as the head and neck and plays an essential role in scar management.
"After we left Bhutan, Tshering Dorji and I stayed in contact via email to discuss when best to discontinue using the soft collar and dressings," Tanja said.
"I was delighted to hear from Tshering Dorji that he and his physiotherapy team had successfully replaced the Elastofix themselves and had passed on their learnings to the patient, so she could make her own Elastofix and self-manage her scars at home," Tanja said.
As the most experienced physiotherapy technician at the hospital, Tshering Dorji was involved in establishing the hospital's hand therapy clinic.
"He was very eager to extend his skills in burns management," Tanja said.
"The local staff knew more than I expected, which was great. I could tailor our approach to more complex techniques."
In addition to practical experience, Tanja also provided in-depth lectures about chemical burns, electrical burns, thermal burns and medical management.
This program was Tanja's first volunteering experience with Interplast, and it has given her a new appreciation of the health system in Australia.
"The Bhutanese are very accepting and appreciative of what they have," she said.
"I have loved learning about their culture through their eyes."
This program is supported by the Australian Government through the Australian NGO Cooperation Program (ANCP).