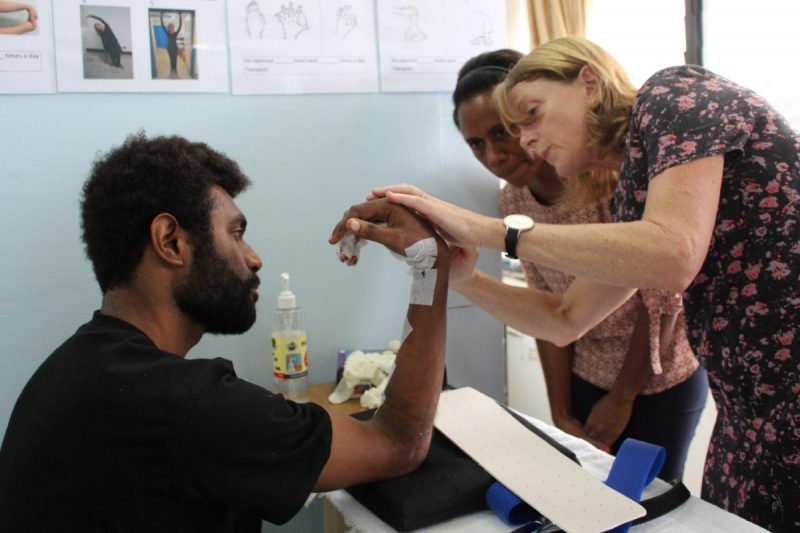 Exceptional patient care is not confined to within the walls of an operating theatre.
Post-operative care is essential to achieving optimal surgical outcomes and enhancing the quality of life for patients. But for many patients a major barrier to achieving positive outcomes is their limited access to post-operative rehabilitation upon discharge from hospital.
While patients in Australia may receive physiotherapy two to three times a week following hand surgery, across the Asia Pacific region, many patients who have received hand surgery, or who have sustained a burn injury to their hand, often are not able to return to the hospital for rehabilitation.
Kits are issued by an in-country clinician who has responsibility for the treatment of their patients.  Under their guidance, each kit is fully customised, based on patient need, and issued locally.  The kits are designed to include key items that will enhance rehabilitation at home.  Depending on the condition being treated, kits may include specialised rehabilitation equipment, wound dressings, exercise instructions translated into local languages and other resources designed to enhance patient care.
Whilst we refer to a 'kit', every kit differs based on patient need.
Interplast volunteer Occupational Therapist, Penny McMahon, explains why post-operative rehabilitation is so important after hand surgery, and why these kits will play such an integral part of a patient's recovery.
Gift a Hand Therapy Rehabilitation Kit this festive season and empower patients to continue their vital rehabilitation from home.