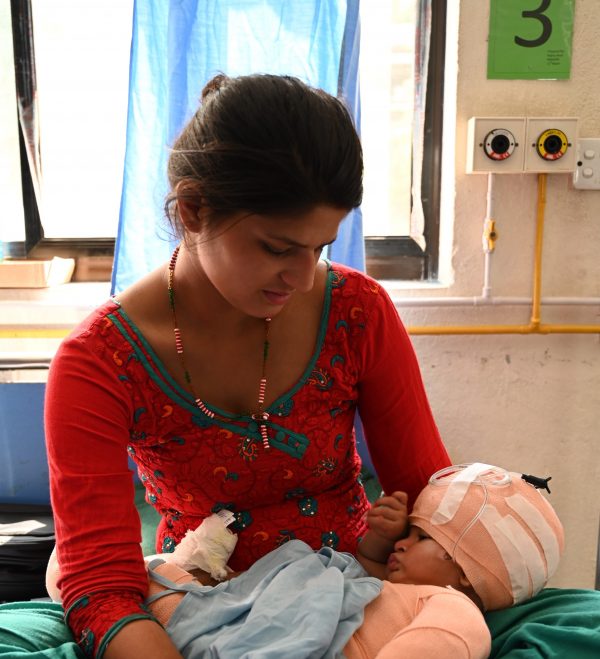 Nishan with his mother in Kirtipur Hospital, Kathmandu, Nepal.
Seven-month-old Nishan is recovering from severe burns in Kirtipur Hospital in Kathmandu, Nepal, thanks to swift and appropriate health care from local hospital staff.
An Interplast Australia and New Zealand volunteer surgical team saw Nishan as part of consultations during Interplast's recent clinical and training program to Nepal.
Nishan was being looked after by his grandma as his parents were both at work. She had him in her arms when she accidently dropped him in the fire. He had full thickness burns to his scalp down to bone and burns to his face and hand.
Full thickness burns are the most serious type of burns.  These involve damage to each of the skin layers and underlying tissue and can include damage to muscle and bone in very deep burns.
The World Health Organization (WHO) reports that more than 96 per cent of fatal fire-related burns occur in low- and middle-income countries.
Burns are highly preventable but remain as the fifth most common cause of non-fatal childhood injuries world-wide.
In Nepal, it is estimated that just 1000 of the 56,000 people who receive significant burns each year are given appropriate treatment.
Women and children make up the majority of burn cases in Nepal. A burn injury has many consequences in children. If they survive and are able to receive acute burn care, they may still develop disabilities and deformities which, if not corrected with reconstructive surgeries, will have physical, educational, financial and social consequences.
For most high-income countries, advances in burn treatment and care have led to higher survival rates and improved recovery of people with burns.  Unfortunately, these advances have yet to be implemented in many low- and middle-income countries.  This is where Interplast is making an impact in the Asia Pacific through health care programs run in collaboration with local partners and training programs including the globally recognised Emergency Management of Severe Burns (EMSB) course.
Several staff from Interplast partner Kirtipur Hospital have completed the EMSB course.  They are now more knowledgeable, experienced and confident about burns treatment and are saving lives and improving lives for people with burns.
Local partner Dr Shankar Rai, Head of Plastic Surgery and Burns at Kirtipur Hospital said that burns training is vital.
"Critical care for major burn patients before and after major surgery is not well developed in our facility even though it is the only facility with burn ICU," Shankar said.
"We need to continue training our doctors and nurses."
Nishan will need to be in hospital for a long time as the burns will take a while to heal. He will also need further surgery throughout his childhood and teenage years.
The Australian Government's Department of Foreign Affairs and Trade, through the Australian NGO Cooperation Program (ANCP), supported this program in Nepal.