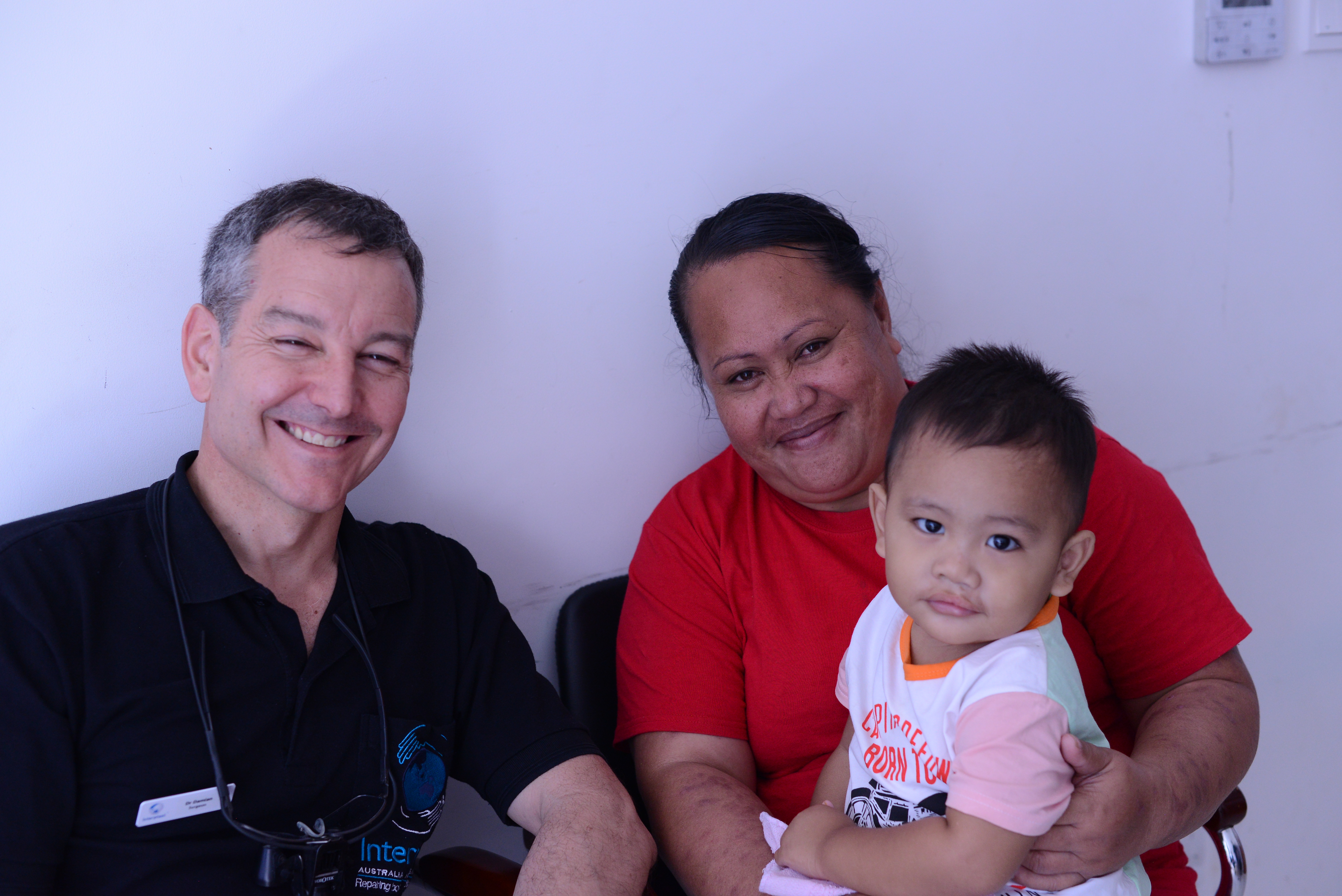 Sydney plastic and reconstructive surgeon Associate Professor Damian Marucci has been an Interplast volunteer since 2009.
"I registered my interest in volunteering with Interplast when I first qualified as a plastic and reconstructive surgeon in 2007," Damian said.  "Not long after, Dr Michael McGlynn asked if I'd go on a program to the Philippines and I said 'yes!'".
After completing a busy two-week program in the Philippines in 2009, Damian was enthusiastic to do more.
"I was very keen to do additional volunteering with Interplast.  A program to Samoa came up in 2011 and I've been going on programs to Samoa ever since."
Having completed eight Interplast programs to date, with the ninth to take place soon in 2019, Damian receives a great deal from his involvement.
"I get an indescribable level of satisfaction from the Interplast programs.  I feel almost selfish!" he said.
"The volunteering is very important to me. It's very satisfying to put my skills and knowledge to really good use in a developing nation like Samoa.  Samoa is a beautiful country. They don't have any plastic surgeons though, so we provide that service and train the local doctors in plastic surgery techniques. I love the interactions with our Samoan patients, their families and all the staff – nurses, surgeons and allied health.
"When the Interplast team is back in Australia, we put a lot of thought into what we could do better next time; what we could teach and what equipment to bring."
The team is ably supported by Melbourne-based Interplast staff who organise all the logistics and equipment and facilitate the program.
Damian is looking forward to the 2019 Samoa program: "I love working with the rest of the Team Samoa Interplast members. Every year it's like 'we're getting the band back together again!' We all know each other well and we have a lot of fun, in addition to doing a lot of work."
"We have Sydney-based plastic surgeon Ben Norris – he's our team leader.  We have nurses MJ Laing and Caz (Caroline) McLoughlin.  We have Katie Anjou who's a hand therapist.  Then we have Alan Goodey, an anaesthetist from New Zealand with lots of volunteering experience.  He is a very steady pair of hands.
The procedures in Samoa are a highlight for Damian.
"In Australia, with cleft palate and cleft lip repairs we usually operate when the child is a little baby.  This then helps them with feeding and speaking," he said.
"In Samoa, we often get older presentations with cleft lips and/or cleft palates.  For example, I operated on a teenager who was 13 and very self-conscious about her cleft palate.  The day after her cleft palate repair, when she spoke for the first time, her eyes lit up, because she was able to make sounds normally for the first time. That was particularly satisfying.
So, what motivates Damian to return to Samoa?
"I really look forward to the Interplast program – it's a highlight of my year," Damian said.
"Interplast programs are incredibly rewarding.  It's wonderful to be able to go to such a beautiful and safe country, with a stable team.  I know the hospital and local staff.  I really love Samoa and each year try to learn a little more Samoan."
"One of the best things about going back each year is the teaching.  You are passing on your knowledge and skills.  The local surgeons and anaesthetists are enhancing their skills and knowledge – it's very rewarding to see their skills and knowledge increase over time.
Damian admires Samoans for their patience, and their sense of community and family.
"The patients often travel a long way by ferry, which is expensive, to come over to Apia the capital of Samoa.  They sleep on the floor or stay with local family members while waiting for their procedure.  It's often a long wait, but there are no complaints.
"The sense of community and family is strong in Samoa.  Young or old, the whole extended family comes along to the hospital to support the patient. The importance of family and community is what I have learnt from the Samoans.
"Doing a program to Samoa makes you appreciate your own family and how lucky we are with the health system we have here."
The Interplast program to Samoa in 2019 is supported by the Rotary Club of Mornington and the Australian Department of Foreign Affairs and Trade (ANCP and PIP).  The Australian Government, through the Pacific Islands Program (PIP), supports approximately 50 specialist surgical/medical teams every year in the Pacific. The PIP, which is managed by the Royal Australasian College of Surgeons, fills specific gaps in local medical services and provides capacity building to local medical staff.