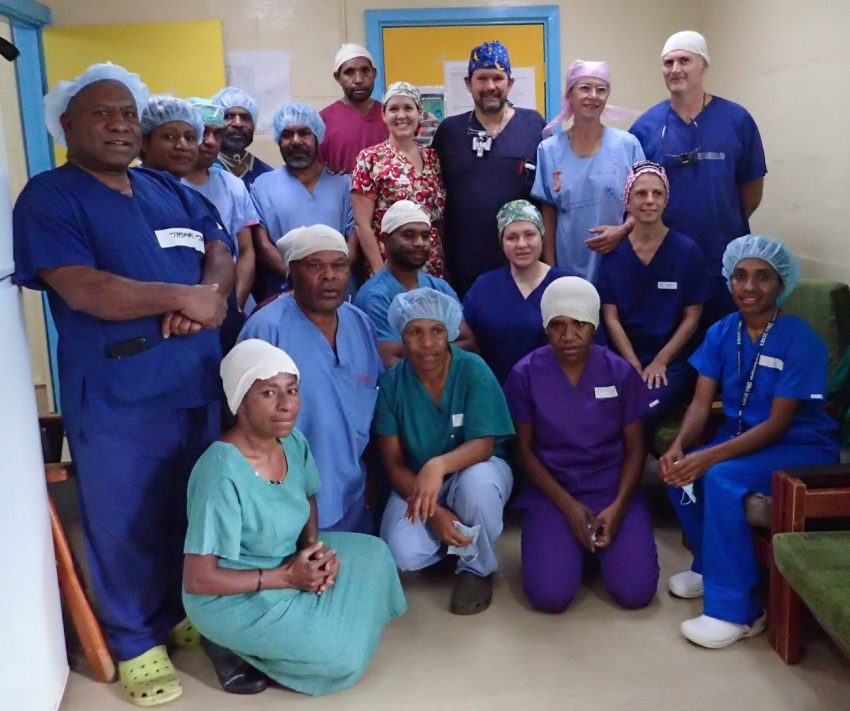 With the emergence of COVID-19 and travel restrictions, our teams have remained grounded in Australia and New Zealand over the past 6 months. However, this has not stopped Interplast or our network of dedicated volunteers from continuing to support our local partners and patients across the Asia Pacific region. Despite the challenges of 2020 our mission remains the same; to enhance people's health and wellbeing by enabling access to life-changing reconstructive surgery and related medical services.
Interplast has created a number of exciting new programs this year, including:
Development of online training modules (Praxhub project)
In 2019, Interplast began planning for the development of a series of online education modules to complement the delivery of face-to-face training across its partner countries. This was both at the request of local partner clinicians, and strongly supported by Interplast volunteer teams. Interplast engaged Praxhub, a Melbourne-based company who 'develop technology solutions to produce high-quality online education'.
This work meant Interplast were able to respond quickly and effectively to the need to adjust Interplast's overseas programming approach, when the COVID-19 global pandemic arose. Unable to mobilise volunteer education and clinical teams, Interplast is now producing high quality, locally relevant clinical training content for reconstructive surgery, anaesthetics, nursing and allied health – including occupational and physiotherapy and speech therapy. This online training has allowed Interplast to reach a broader audience than would traditionally be included in our face-to-face programs.
Interplast has plans in place to develop and distribute at least one training module per month, across the FY21 period. Initial topics covered include surgical scrub & PPE, splinting, feeding a baby with cleft lip and palate and wound care, skin grafting, managing difficult airways and infection prevention & control.
Global webinar series
Interplast is delivering a regular series of webinars for local partner clinicians across the Asia Pacific region. These webinars are delivered by Interplast volunteer clinicians – expert surgeons, anaesthetists, nurses and allied health professionals, on different topics which have been identified and requested by local partners. These webinars are open to relevant clinicians from Interplast's partner countries, as well as other developing countries who Interplast may not traditionally work with. This online platform is enabling Interplast to extend its reach to other countries, and other hospitals within the countries it already works.
Webinar sessions include a 30-40-minute presentation on a specific topic, and then a 30-40 minute live 'Q&A' session – where participants can ask questions of the presenter. These sessions are dynamic and engaging, and feedback from those participating is extremely positive. Participants receive a detailed certificate of participation, which in many countries, are able to be used for their own local continuing professional development. These webinars are also recorded, and available for streaming or download after the live sessions.
So far, webinars have included those focused on wound care solutions, wound debridement & hygiene, complex tendon injury and reconstruction, scar management, and microsurgery principles.
Country-specific online education & 1:1 mentoring
Interplast is working closely with local partner hospitals and clinicians to identify where it can assist specific country or hospital-based needs, during the time when we cannot mobilise our teams, and develop training and support plans to respond to this.
For example, in Myanmar, where Interplast usually delivers 3 surgical mentoring and nurse education visits per year, key Interplast volunteers have established a detailed program of online training sessions to be delivered twice monthly – one for the junior trainees and one for the senior trainees. This program works through a series of topics, as determined in conjunction with key personnel at the Yangon General Hospital, including head & neck reconstruction, neck dissection, lower limb reconstruction, principles of microvascular surgery, oral cancer management & reconstruction, management of facial fractures, and breast reconstruction. These are being delivered by a number of Interplast's volunteer surgeons, all of whom are familiar with Myanmar and the local trainees, as they are part of the teams who usually deliver the in-country training.
In Nepal, local partners have asked for support in developing their burns surgery capacity, as well as their local craniofacial service. Interplast is working with leading Australian & New Zealand experts in these sub-specialties, to set up specific mentoring and support for Nepali partners.
In Fiji, Interplast, in partnership with the Australia & New Zealand Burns Association (ANZBA), has been delivering Emergency Management of Severe Burns (EMSB) training to local doctors and nurses for the last 4 years. As this training can't be delivered in person at the moment, Interplast and Australian EMSB facilitators have taken this training 'online' and are delivering it through weekly zoom sessions.
In PNG, Interplast is providing ongoing support to the only local reconstructive surgeon, and his trainees, through targeted online training sessions, with his Australian mentors, focused on specific topic areas which he requires support in.
In Bhutan, the country's first plastic & reconstructive surgery trainee, Dr Sonam Jamtsho, had his formal overseas training cut short just after it began, due to the emergence of COVID-19 and his requirement to return home. In response to this, his Australian mentor, Dr Tim Proudman, is delivering a weekly education session with him, to take him through a structured training and discussion program.
Regional online clinical advice & support
In the Pacific Islands, there are only two qualified plastic and reconstructive surgeons – one in Fiji, and one in PNG. This leaves a significant unmet need in terms of plastic and reconstructive surgical cases, even when Interplast teams can travel to provide clinical support. In many of the smaller Pacific Islands, most if not all surgeons are trained as 'general surgeons', as there is not a population large enough to require specialisation. In this case, Interplast works with the general surgeons and trainees to upskill them with basic reconstructive surgery skills, to enable them to address trauma, and some of the simpler cases while Interplast teams are not visiting.
Local partners across the Pacific Islands requested the set-up of a forum during the COVID-19 travel restrictions, where local surgeons can present specific cases, they need assistance and advice with, and experienced Interplast volunteer surgeons (all of whom are very familiar with the Pacific countries), are able to provide guidance. This is facilitating ongoing discussion and teaching, and sharing of knowledge and skills between the Pacific surgeons, as well as from their Australian peers.
Gender, disability inclusion and safeguarding initiatives
Interplast recognises the importance of ensuring that it prioritises the safeguarding of vulnerable people in the delivery of all its clinical and training activities. As part of this safeguarding work, Interplast has developed a suite of new materials to support its volunteers and local partners to understand their responsibilities to keep vulnerable people safe – including video and print materials. These will be utilised widely for all Interplast programs.
Interplast is developing its first Gender Equity Strategy, including a number of new initiatives to complement existing work which focuses on improving access to clinical services, and training opportunities and clinical services for women and girls in its partner countries, as well as building Interplast's own internal capacity related to gender equality.
Interplast is working in partnership with CBM Australia on two concurrent projects. The first is to undertake an in-depth analysis of disability within its partner countries, and how Interplast's programs can ensure better inclusion of people with disabilities in all aspects of its programs. The second project will develop locally-specific training for local clinical partners to improve their understanding of disability, and their skills in supporting people with disabilities through clinical services.
Support with clinical equipment & supplies
Interplast are providing targeted support to some countries and partners, with clinical equipment and supplies, which allow them to continue to deliver much needed surgical services, and to improve the quality of care they can provide. This has included:
Plastic surgery instrument sets for local surgeons in the Pacific who are able to deliver some basic plastic surgical services, thanks to ongoing training they have received from Interplast volunteers
Skin graft knives and blades for local surgeons to ensure they can take skin grafts needed to treat burns injury and other trauma requiring skin grafts
A hemocue for local partners in Sri Lanka – this is a unit which measures haemoglobin in patients, providing quick and accurate results. This is particularly important to monitor children who have undergone complex craniofacial surgery, and to manage deteriorating patients, so that changes in those patients can be detected and managed as quickly as possible.
Specialist sutures to support surgeons in Fiji to undertake more complex reconstructive surgical cases
Delivery of these resources are complemented with remote training and support from Interplast volunteers to ensure that local partners are confident and competent in their use.
Development of patient information & other written clinical resources
Interplast has developed a number of new written clinical resources which will assist in improving the quality of clinical care in local partner countries both while Interplast teams are visiting, as well as between visits. This includes information for local clinicians, as well as for patients and their families. To date these resources have included:
Guidelines on different solutions that can be utilised in the treatment of wounds, specifically related to low resource settings in tropical countries
Guidelines on best practice for management of plastic surgery instruments and other sharps, in the operating theatre
Observation charts to provide guidelines for the management of patients following upper and lower limb surgery
Guidelines to assist clinical staff to know when a patient complication must be referred for further investigation, post operatively – both while an Interplast team is visiting, but also during normal local practice
Development of public health awareness campaigns
In response to requests from local partners, Interplast will be developing a number of resources which can be tailored to individual countries and contexts, aimed at raising community awareness of common causes of conditions which are treated by plastic and reconstructive surgical teams (both visiting and local), in an effort to reduce prevalence and incidence. This will include:
Burns injury
Breast Cancer – early detection and treatment
Diabetes, and prevention of diabetic foot
Research & evaluation projects
In line with Interplast's ongoing commitment to quality program design, monitoring and evaluation, we are currently undertaking a number of evaluation projects, to assess effectiveness and impact of programs over the past 5 years in Mongolia, Bhutan, Sri Lanka & Nepal, and to help determine ongoing programming focus in those countries for the next 5 years. These projects involve engaging with local expertise within each of these countries to undertake in-depth surveys and interviews with key local stakeholders and patient beneficiaries, and collaborating with our team in Australia who are undertaking interviews with key Interplast volunteers, alongside undertaking an in-depth desktop review.
In addition to these evaluation projects, the second half of 2020 will see Interplast commencing a number of other research and evaluation projects, including:
The long-term impact of Interplast's anaesthetic scholarship program for Indonesia
A review of Interplast's programs in the Philippines
An in-depth study into the state of plastic & reconstructive surgery (and related services) across the Asia Pacific regions in which we work
Interplast will be undertaking these projects with a combination of internal and external expertise, including in partnership with a number of research and educational institutions.