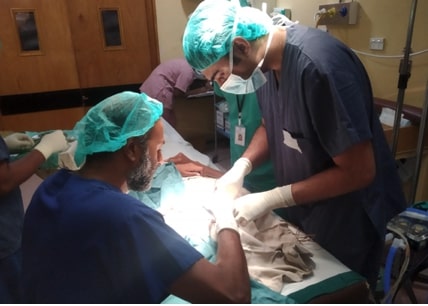 When Rishaal was a child, he thought everyone who went to hospital could be cured. This happened to many of his family members when they became ill, and Rishaal wanted to be part of this exciting world of medicine.
University of Newcastle medical student, Charlie Jeong, met Rishaal during his Avant observational placement withInterplast in Fiji earlier this year.
Rishaal chose to become a surgeon because he felt it was a unique specialty.
"Rishaal also took an interest in stem cell research and wanted to pursue medicine to explore this further" "You are able to see the result of your work if done properly and often you can see the cure," Rishaal said.
Rishaal's first contact with Interplast was in 2017 during a visit by a volunteer surgical team at Labasa Hospital. He was a newly appointed surgical registrar at the time and was unsure of what to look for during surgery.
"But this year, having more experience under his belt, Rishaal was able to assist in multiple surgical cases and was in a better position to learn greater technical details with Interplast surgeons," Charlie said.
"Rishaal really appreciates Interplast because they allow trainees like himself to work under good supervision and experience learning from different consultants with different techniques."
"Being exposed to cases performed by Interplast surgeons allows the trainees to be upskilled and more confident with minor surgeries. This can ultimately lead to less transfer of patients to other hospitals outside of the region, for better patient outcomes."
We thank the support of Rotary Districts 9810 and 9630 as well as the Rotary clubs of Wandin and Kenwick for their support of this program