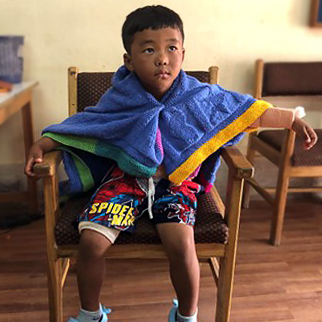 The Interplast team were able to return to Bhutan in June for the first time since the emergence of COVID-19. There, CEO Cameron Glover and the Interplast volunteer team had the honor of meeting Kinley. At just five years of age, Kinley was involved in an accident at home.
In Southeast Asia, delicious meals can be cooked outdoors with open flames. Unfortunately, children are too often hurt by reaching for hot equipment or falling into fires.
Though Kinley was provided initial care after his accident, his injury developed into contracted scar tissue. As there are no specialist burns or plastic surgery services in Bhutan, he had had to wait to receive treatment.
Children with burn scar contractures require complex care to prevent their scars from tightening as they grow. Without medical attention, their scars will increasingly restrict their movement. These children may lose their ability to walk or run. They may be unable to hold a pencil. This will impact their ability to play and participate in games, school their communities.
On this visit, volunteer surgeon Dr Rob Coren and local Bhutanese surgeon Dr Sonam Jamtsho were able to successfully release Kinley's scar contractures by grafting skin from this thigh. To support Kinley's recovery, Interplast hand therapist Megan Fitzgerald and local therapists fabricated a splint with foam lining and Velcro straps.
Hand therapy is an active area of interest for many physiotherapists in Bhutan. Many travelled from across Bhutan to attend Interplast's hand therapy clinic. Together they practised and shared skills and expertise in supporting tendon injuries, severe trauma injuries, finger amputations and ongoing rehabilitation. These skills are vital for supporting children like Kinley to regain and maintain function after surgery.
Before the Interplast team left, Kinley received a hand knitted blanket from Australia. This was was quickly fashioned into a cape, showing the world that he is as brave as his favourite superhero, Spiderman.
This trip was delivered in partnership with the Australian Government through the Australian NGO Cooperation Program (ANCP) and with support from other partners.