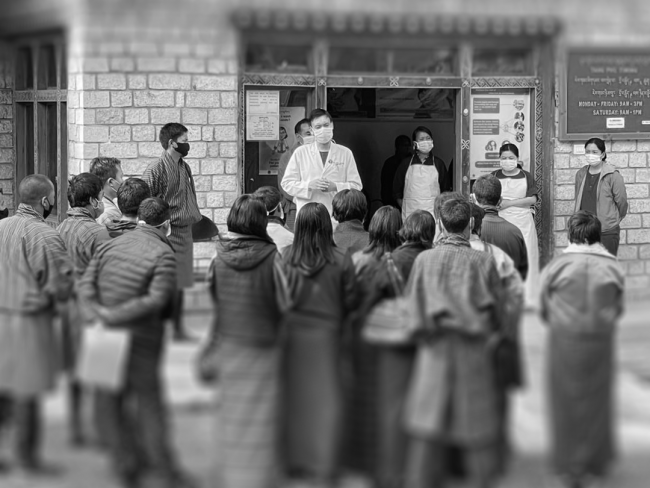 As part of Interplast's Behind the Mask series we seek to share the dedicated experiences of our volunteers and partners in over 25 countries. Dr Sonam Jamtsho, General Surgeon and Interplast partner, shares the realities of operating in his home country – Bhutan.
THE HUMILITY of Dr Sonam Jamtsho, general surgeon at Wangdicholing Hospital in Bhutan, makes it easy to underestimate the magnitude of his professional contribution.
As the only specialist in his hometown of Bumthang, Sonam applies his skills in plastic and reconstructive surgery to transform lives on a daily basis. Without him, many of his fellow citizens would be left with debilitating injuries, unable to support themselves or their families.
"I am the only specialist surgeon here and I feel honoured and excited to provide such essential services to the people of central Bhutan,' Sonam says.
Bhutan is a small, developing country in Asia where many people don't understand the value of modern medicine. Even though healthcare services are free, Sonam often finds it difficult to convince patients about the benefits of surgery.
Nonetheless, his dedication as a trainee specialist surgeon continues undiminished, thanks to inspiration from surgical mentors – Dr Lotay Tshering (Bhutan's Prime Minister) and Interplast's country coordinator, Dr Tim Proudman.
Sonam has vivid memories of the first time he assisted Tim and his team during an Interplast visit to Bhutan.
"The patient was a woman in her early twenties. She was very jolly even though she had burns scarring to 30 per cent of her upper body. The team reconstructed a large proportion of her face and torso. The procedure took all day and it was very inspiring for me be involved."
Burn injuries are common in Bhutan, especially among children. This is because most people rely on open fires for heating and cooking, and children get left at home while their parents are working.
Without Sonam, many of these injuries would go untreated and may get worse over time due to heavy scarring.
"The limited number of health workers we have struggle to keep up with patient demands, especially in speciality services like reconstructive and plastic where we rely entirely on external support," he says.
"Interplast are highly supportive but we can't go long depending on their surgeons – especially since COVID means they can no longer visit. Their online training using telehealth is now a lifeline for us. Suddenly we have access to the kind of learning we need to increase our local specialised skills."
Such services put Sonam so much closer to realising his dream.
"I hope that with Interplast's support and guidance I will be able to develop a reconstructive unit in Bhutan so local specialists can help patients with minimal or no support from visiting surgical teams.
"That is my ultimate mission and I look forward to working with Interplast to achieve it."
Surgeons, anaesthetists, nurses, allied health professionals and local country trainees – our Behind the Mask series offers insight into the individuals using their skills to repair bodies and rebuild lives throughout the Asia Pacific region.