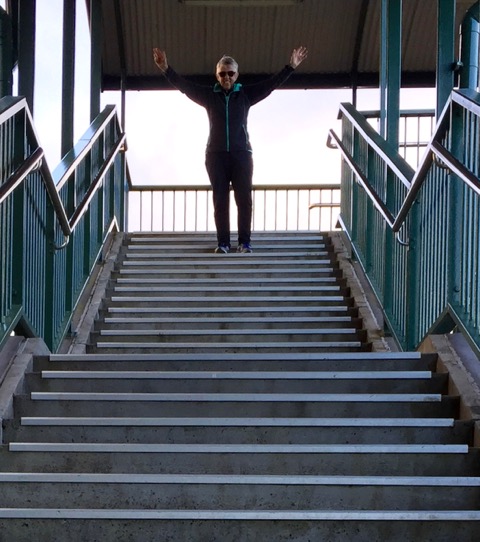 Retiree Barbara Wall may be approaching 70, but that's not stopping her from taking on the Eureka Climb in Melbourne this year to raise money for Interplast and domestic charity Whitelion.
"The Eureka Climb in Melbourne has been on my 'bucket list' for many years now," said Barbara. "Early in 2016 I decided that this was to be the year and I embarked on a weight loss and fitness program. Over the past six months I have managed to lose 26 kilos making my task of climbing the tower somewhat easier!"
Now 68, Barbara was part of the Rotary Club of Upper Blue Mountains Sunrise in NSW for 10 years. In 2009 she was introduced to Interplast and has been a passionate supporter ever since.
"One of my most cherished memories of my involvement with Interplast was the great privilege of accompanying a medical team to Suva in Fiji. That memory will never leave me and it was a powerful lesson in how important it is to continue raising funds for this wonderful organisation," she said.
During her time with Rotary, Barbara's enthusiasm for Interplast led to some impressive fundraising efforts. "I'm proud to say that over a period of four years we were able to raise enough money with the support of other clubs in the district to send two medical teams away."
Now retired from Rotary, Barbara's passion for Interplast hasn't waned, and the Eureka Climb has provided an ideal opportunity to continue her support.
"My major fundraising effort in the Blue Mountains will be a 'High Tea with Altitude' on November 6, and I would love to see any Rotarians and others who are able to make it on the day. There will be significant lucky door prizes as an incentive to show up!" Barbara said.
Details for Barbara's High Tea With Altitude
Venue: Govetts Cafe & Wine Bar
Blackheath, Blue Mountains
Date: Sunday, 6 November
Time: 3pm – 5pm
Cost per person: $35
You can support Barb's efforts by making a donation at her official fundraising page. 
Barbara and her friend Debbie Shiell are climbing the Eureka Tower as the 'Step Sisters' team. They have two spots available, and would love you to join them.
To book your spot for the High Tea with Altitude, or to join Barbara and Debbie's Step Sisters team for the Eureka Climb, contact Barbara on 0409 207 588.
About the Eureka Climb
The Eureka Climb is Australia's biggest vertical race. Participants climb 1642 steps over 88 floors to the Eureka Skydeck – the highest observation deck in the Southern Hemisphere. It is Interplast's major fundraising event for the year and a great way to support our work. You can enter on your own, with a team, or sponsor someone who is climbing.
Every entrant in the Eureka Climb has the opportunity to stand on the roof of the tower. Those who raise more than $888 and finish in the top 88 fundraisers will be welcomed into the 88 Club. Benefits include a rooftop photo, exclusive marquee and refreshments, priority post-climb massage and more.
You can also put together a workplace team to compete in the Corporate Cup – we'll have an Interplast team ready to take you on! All Corporate Cup entrants are eligible for the 88 Club.
Find out more and register at the Eureka Climb website.