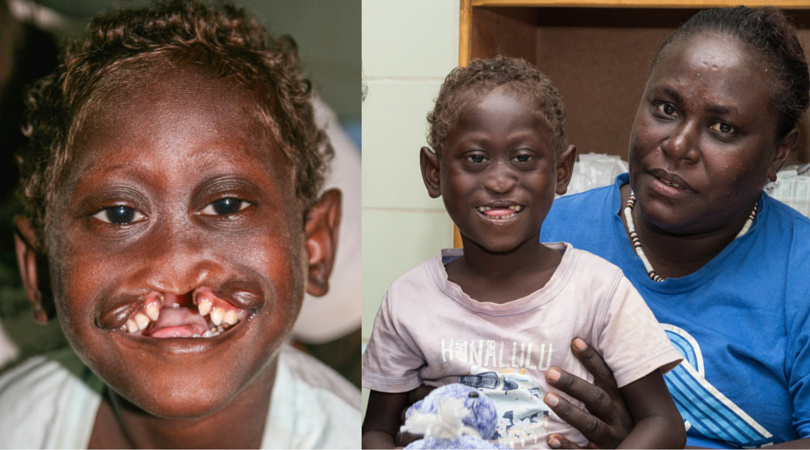 Rockson, a young boy from a remote part of Solomon Islands, is looking forward to a future as bright as his personality thanks to reconstructive facial surgery by Interplast volunteers.
Rockson first came to our attention in May 2015 when volunteer surgeon Dr Zac Moaveni repaired a severe cleft lip and built him a nose.
"Most children don't have such a wide gap in their lip," said Dr Moaveni. "It was one of the worst I've seen in some ways. I had to do the lip repair unconventionally, plus a rib graft to rebuild a nose for him, which is not something you'd normally do for a cleft."
Despite the magnitude of his cleft lip and palate, and the rigors of surgery, Rockson's energy and positivity impacted on everyone.
"Rockson will stay in my mind as one of most remarkable young patients I've met on an Interplast trip," said Dr Moaveni. "He's got one of those personalities that lights up a room. He wore the most ready smile that wins you over instantly.
"The rib graft is quite painful. After surgery we went to the ward and he was sitting in bed smiling (as best as he could!) and his mum had tears streaming down her face. By the time we left he was running around the ward and playing."
But that operation was only stage one. Dr Moaveni planned to repair Rockson's severe cleft palate on a return trip to Solomon Islands in June this year, but as the visit progressed he became increasingly concerned that Rockson, now almost six years old, wouldn't make it on time.
"He wasn't there on the first day, so I was asking if the local doctor had heard from him," said Dr Moaveni. "The local clinic had assured the doctor that Rockson was going to come, but he didn't show up.
"Rockson finally made it on the Monday, day four or five. I was just walking past the entrance to the theatre and suddenly saw him. I was just over the moon to see him, because you never know if the message is going to get through."
The delay in Rockson's arrival is an example of the transport challenges people face throughout the country. Rockson's family lives on the island of Choiseul in the far north-west of Solomon Islands, near Bougainville. In 2015, Rockson and his mother travelled by boat for up to three days, but this time teamwork made things slightly easier. The Choiseul Provincial Health service organised his travel and paid for his flights to Honiara, and the National Referral Hospital in Honiara payed for his flights home.
Dr Moaveni was very pleased with Rockson's progress since the first surgery. "Everything seems to have healed exceptionally well, both the lip and the nose, and he seemed in really good spirits," he said.
Repairing Rockson's cleft palate took a number of hours, but once again, Rockson recovered quickly and the future is looking good. Once fully healed, eating and speaking will become even easier for him. "The amazing thing is that even though the mouth is sore, the speech is immediately different, and much more intelligible. His mum commented on that the next morning."
Dr Moaveni said that Rockson now has the best chance of living a normal life as a fully accepted part of his community. "There is still a small hole in the very front of the palate. In a couple of years he will need a smallish procedure to fix that, but it's not absolutely essential."
Dr Moaveni said that helping Rockson has been very significant for him, and his passion for Interplast's work.
"That's the sort of case that makes you do what you do," he said. "It's why Interplast exists, really. Everyone, from people who donate, to logistics people down to the teams who do the surgery, it's the whole endgame of everything that we do – people like him."
The Solomon Islands June surgical program was made possible thanks to generous funding from Rotary District 9830 in Tasmania.
This story was taken from the Spring 2016 edition of our Inside Interplast newsletter. You can download the whole newsletter here.