Interplast is changing futures in 17 countries
Our volunteer surgeons, anaesthetists, nurses and allied health professionals work in 17 countries across the Asia Pacific.
They change futures by performing reconstructive surgery to repair acquired or congenital conditions, giving both adults and children the chance to live healthy lives free from physical difficulty and social exclusion.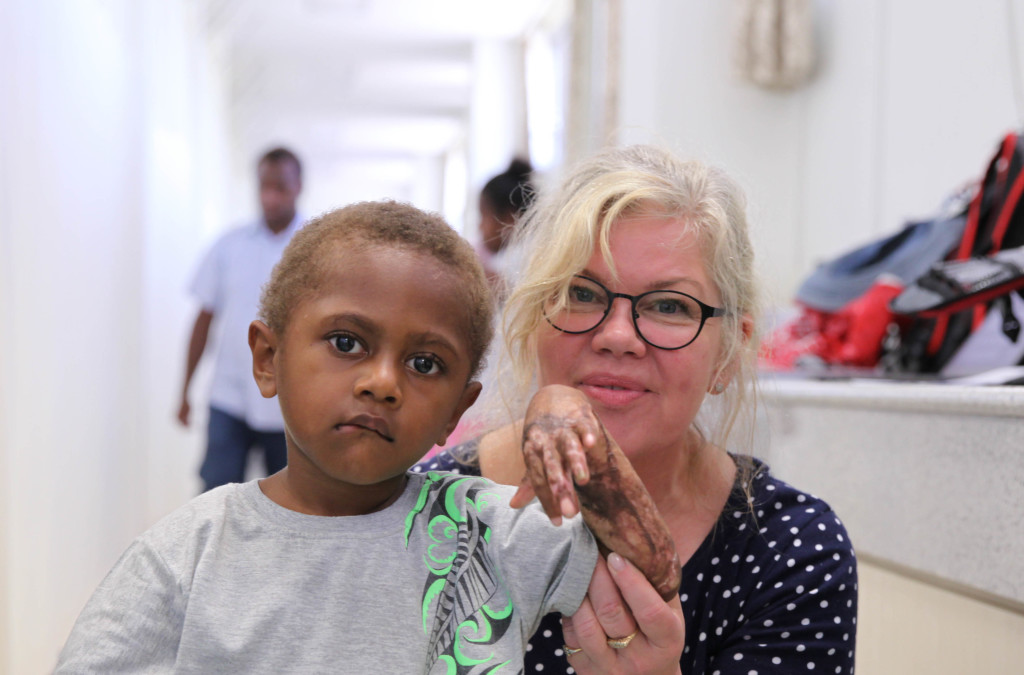 "The surgery Frank had will allow his hand to grow properly and he will be able to use it for holding a ball, or holding a cup. He would not have been able to do that before." (Dr Frank Lin, Interplast volunteer)
For example, a gift of $100 will provide the dressings and surgical supplies that allow our dedicated medical teams to restore hand function for a patient like little Frank from Vanuatu, in the picture above. Frank sustained burns when he fell into an open fire after Cyclone Pam destroyed his home, forcing his family to live outdoors.
They also change the future of health care in our partner countries by offering vital training in reconstructive surgery, anaesthetics, nursing and more. Our deep respect for our in-country partners and our commitment to providing only the services and skills they request is the key to our success.
No matter how much you give, you will be changing a future for the better.
Volunteers hard at work early in new year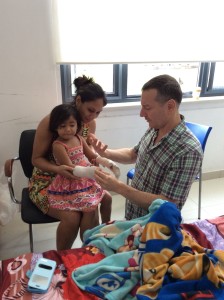 Interplast volunteers finished 2015 and began 2016 without showing any signs of slowing down in their quest to change futures in the Asia Pacific region.
Two teams departed on the last weekend of January; one to Lae, in Papua New Guinea and the other to Masbate in the Philippines.
There was a flurry of activity in December too, though many people and businesses were winding down for the holiday season. Programs took place in Tonga, Kiribati and Samoa in the final weeks of 2015.
In Tonga, 71 patients were consulted and 49 procedures were performed – the majority to treat skin lesions and soft tissue deformities. In Kiribati, a nurse training program was delivered, summed up by local nurse Luisa as 'very comprehensive but simple and clear to understand'.
In Samoa, the team met Olivian, pictured here. Two-year-old Olivian sustained hot water burns to her hands last year. Contractures caused three fingers on her right hand and two on her left to completely curl into her palm, making it impossible for her to grasp anything. Volunteers said she did enjoy clapping, though!
In a two-hour operation, surgeons released the contractures and used skin grafts to cover Olivian's wounds. Interplast hand therapist Katie Anjou and local physiotherapist Rube helped place Olivian's hands in plaster casts.
Katie had brought over special thermoplastic splints from Australia and trained Rube and other Samoan physiotherapists in their use – another example of Interplast's commitment to helping build capacity in our partner countries.
Olivian will now be able to enjoy using her hands for much more than clapping. Interplast is proud to have worked with local partners to change her future, and to add a string to the bow of local health professionals through training.
Australia Day honours for Interplast volunteers
Two long-standing Interplast volunteers, Dr Ian Carlisle and Dr Tim Cooper, and strong supporter Dr Gill Hicks were honoured for their achievements with Australia Day honours this year.
Dr Carlisle joined Interplast at its inception in 1983, and has since volunteered his time and skill to change futures in Indonesia, Fiji and the Philippines.
He told The Age newspaper that he finds it satisfying to treat those with cleft palates, burns or disease who otherwise would not be helped.
Dr Cooper is based in Western Australia, and fits in volunteering between both public and private practice, and between general plastic surgery and reconstruction after trauma or cancer.
"It's not hard. you just make time. We live in a very privileged society and it reminds me every time I goes to places, like hospitals in Indonesia and throughout the Pacific, how privileged we are here in Australia," Dr Cooper told The West Australian newspaper.
Dr Gill Hicks, who survived the London bombings in 2005 and lost both of her legs, participated in the Eureka Climb, Interplast's major fundraiser and spoke at the launch event. She has frequently voiced her support for Interplast's work in the media.
Dr Hicks was awarded the Order of Australia for significant service to the promotion of peace in the community. She was also awarded an MBE in 2005 for her charity work. Her not-for-profit organisation M.A.D for Peace works to deter people from following a path to violent action.
Australia Day honours 2016: surgeon Ian Carlisle helped to rebuild the faces of many – The Age, 26 January
West Australians win honours on Australia Day – The West Australian, 26 January
Australia Day honours 2016: Gill Hicks, promotion of peace – The Australian, 26 January (this article is available to those with a subscription to The Australian only).
Interplast in the news
Eureka Climbers raise over $250,000
Associate Professor Michael Leung and his team, the Fantastic Plastics.
Participants in one of our main fundraising events, the Eureka Climb, have raised over a quarter of a million dollars for Interplast and Whitelion.
Scaling Eureka Tower's 88 floors was only part of the event, with the 2,200 climbers organising intensive fundraising campaigns in the lead-up to the day.
The funds raised will make an enormous impact in the 17 countries across the Asia Pacific region where Interplast changes futures by offering reconstructive surgery to people with acquired or congenital conditions, and by providing hundreds of training opportunities for medical professionals.
Associate Professor Michael Leung, a proud Interplast volunteer and Board member, topped the individual fundraising chart, with $17,157, while his team the Fantastic Plastics made the highest amount as a group with $18,387. They were followed by Plastic Fantastic with $15,271 and the Muto Laters at third with $11,259.
On the athletic side, Mark Bourne took first place in the men's category for the second time, completing the course in 7 minutes and 55 seconds, while Alice McNamara was the fastest woman with 9:39.
Teams of emergency services personnel challenged themselves further by scaling the 1,642 steps while wearing full gear. Riot police wore cumbersome helmets and carried their shields all the way. Despite carrying an extra 25 kilos of breathing apparatus, heavy boots and fireproof outerwear, the winner in the emergency services category was firefighter Scott McGraw, who reached the top of the tower in just 9:19. This was another impressive effort from Scott, who in 2013 climbed the tower an incredible 31 times in one day as part of the 'Everest Challenge'.
Interplast supporter, Dr Gill Hicks, a London bombings survivor who lost both of her legs, completed the climb as part of a series of 10 challenges she has vowed to complete this year marking a decade since the terror attacks.
Dr Hicks spread a message of peace after similar violence rocked Paris just a day before the race.
Interplast, together with Whitelion, would like to say a huge thank you to everyone who showed their support through fundraising, competing in the race or taking part in the immense organisational effort that makes Eureka Climb not only possible, but vibrant and fun each year.
Special thanks also go to Dr Gill Hicks and Mike Rolls, who championed both Interplast and the event in numerous interviews with the media, helping spread awareness of our work.
Donations will remain open until the end of November.
View our Facebook photo album from the day
Watch the highlights:
Want to support Interplast?
Change a future by donating today.
DONATE